Thumble Tumble is a little witch from the Isle of Arran. First published in 2015, her adventures begin with Thumble Tumble and the Ollpheist, where she stumbles upon a mysterious secret.
Follow Thumble Tumble through her adventures with Night Witches and Sea Dragons as she attempts to infiltrate the Great Games. Then follow even more twists and turns through the Devil's Maze as she encounters Flower Nymphs and Thistle Pixies in the second book, Thumble Tumble and the Cauldron of Undry!
Latest Book
When her friend is taken captive by Mogdred, the supreme Night Witch, Thumble Tumble is forced to join an unlikely Pirate crew on a terrifying journey to World's End! Pursued by a host of menacing monsters, they must find the key that unlocks a magical chest full of deadly treasures! Follow Thumble Tumble through this twisting tale of mystery and adventure on her most incredible journey yet!
it's holiday season!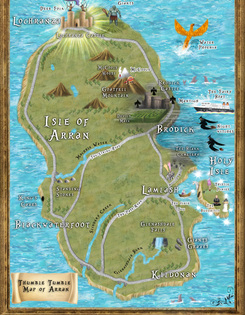 View Thumble Tumble's very own map of the Magical Isle of Arran. Why not take it on your next trip!
Download the Magical Map
News & Events
Arthur's Christmas Tale is a heart warming stop motion animation based on a poem by AH Proctor that was created to raise funds in aid of Shelter Scotland. The animation will be showing in the trailers of cinemas across Scotland throughout December.

We feel very passionate about children's literature here at Thumble Tumble Towers. Wales and Ireland have their own Children's Laureate's dedicated to engaging children with literature. We'd like to see Scotland follow suit.
See all News & Events