Arthur's Christmas Tale in aid of Shelter Scotland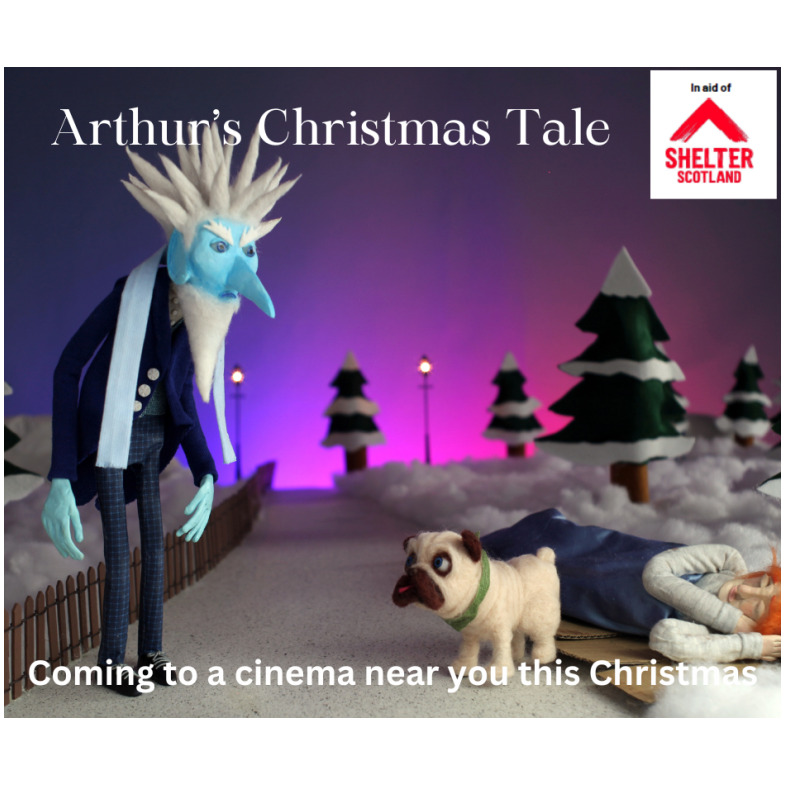 Arthur's Christmas Tale is a heart warming stop motion animation based on a poem by AH Proctor that was created to raise funds in aid of Shelter Scotland. The animation will be showing in the trailers of cinemas across Scotland throughout December to help raise funds for the charity.
Donate to Shelter Scotland here: Shelter Scotland Giving Page
Cinemas where you can see Arthur's Christmas Tale
Why not treat yourself to a Christmas Movie and help a great charity in the process. You can see Arthur's Christmas Tale in the following cinemas:
Perth Playhouse, 6 Murray Street, Perth Perth Playhouse
Scotsman Picturehouse, 20 North Street, Edinburgh Scotsman Picturehouse
Alloa Cinema, Bank Street, Alloa Alloa Cinema
Bathgate Cinema, George Street, Bathgate Bathgate Cinema
Cameo Cinema, 38 Home Street, Edinburgh Cameo Cinema
RBC Film Theatre, Robert Burns Centre, Dumfries RBC Film Theatre
New Picture House (NPH), 117 North St, St Andrews NPH Cinema
The Kino Leven Cinema, 17-19 Commercial Rd, Leven Kino Leven
The Birks Cinema, 1 Dunkeld St, Aberfeldy The Birks Cinema
Auchterarder Picturehouse, Muthill Village Hall/Aytoun Hall Auchterarder
The Kino Glenrothes, 2 Church Street, Glenrothes Kino Glenrothes
The Dominion Cinema, New Battle Terrace, Edinburgh Dominion Cinema
Tower Digital Arts Centre, 81 Sinclair St, Helensburgh The Tower
Moray Playhouse, High Street, Elgin Moray Playhouse
Isle of Bute Discovery Centre Cinema, Victoria St, Rothesay Bute Cinema
Eden Court Cinema, Bishop's Road, Inverness IV3 5SA Eden Court Cinema
Highland Cinema, Cameron Square, Fort William PH33 6AJ Highland Cinema
.
About Shelter Scotland
Shelter Scotland strives every day to give people struggling with bad housing or homelessness the help they need, through our advice, support and legal services. They campaign relentlessly to achieve their vision of a safe, secure, affordable home for everyone. You can find out more about the vital work carried out by Shelter Scotland by following this link:
Shelter Scotland exists to defend the right to a safe home and fight the devastating impact the housing emergency has on people and society. Shelter Scotland believes that home is everything. As of 31 March 2023, there was 15,039 households in temporary accommodation, 9,595 of them children, the highest number recorded. Between April 2022 and March 2023 another 32,242 households became homeless - this is the equivalent of a household losing their home every 16 minutes. Donate now and you can help make sure no one has to fight the threat of homelessness alone.
Angela Proctor is an author from the East End of Glasgow, most famous for her series of stories for children, Thumble Tumble. Angela has turned one of her poems into an animated movie, Arthur's Christmas Tale to raise vital funds this winter in aid of Shelter Scotland.
Thank you for donating and joining our fight. Your donation could help make sure that there's an adviser available when someone is struggling. They tell people exactly what their rights are, so they can defend their home. With you by their side, we can keep protecting them. Together, we can always be there for anyone who needs us.
Donate to Shelter Scotland here: Shelter Scotland Giving Page