THUMBLE TUMBLE TEACHING PACKS
We're thrilled to offer fabulous FREE Teaching Packs to accompany our Thumble Tumble adventures!
The packs were specifically developed to meet Scotland's Curriculum for Excellence, experiences and outcomes.
Councillor Chris Cunningham, City Convener for Education, Skills & Early Years said: "We're delighted to be working in partnership with AH Proctor and we will be promoting the study packs to our schools. Together we can nurture and foster creative talent in the children's minds and show them that there is nothing to stop them being a successful author one day! With support like this and the fantastic work of our schools and teaching staff, we can't wait to see what this growing partnership holds."
Download your FREE Teaching Packs here:
Teaching Pack 1:
Thumble Tumble and the Ollpheist - Teaching Pack
Thumble Tumble and the Ollpheist is a story about a coven of witches. As with all good fairy stories, there is the balance of good and evil.
Follow Thumble Tumble through her adventures with the witches, Deer Folk and Sea Dragons, and the excitement of magic doors and magic carpets. Most of all, follow her adventures as she goes to the Great Games and finds the secret of Ollpheist.
Teaching Pack 2:
Thumble Tumble and the Cauldron of Undry - Teaching Pack
Thumble Tumble is a little witch who has no idea what dengers she will face when she enters Devil's Maze.
With time against her and an army of Night Witches hunting her down, she must find a way to get to the mysterious Holy Isle and release the power that lies within an enchanted cauldron.
Follow her adventures as she escapes bewitched gauntlets and crazed pixies on this extraordinary quest to find the magical Cauldron of Undry.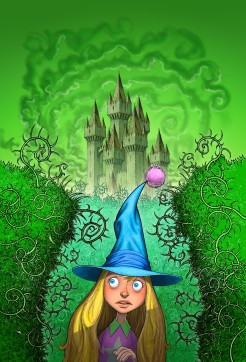 Author Visits
One of Angela's main drivers is to encourage children to read more and become inspired by all things literary! Our "Imagination Challenge" visits have therefore become a huge hit with both pupils and their teachers!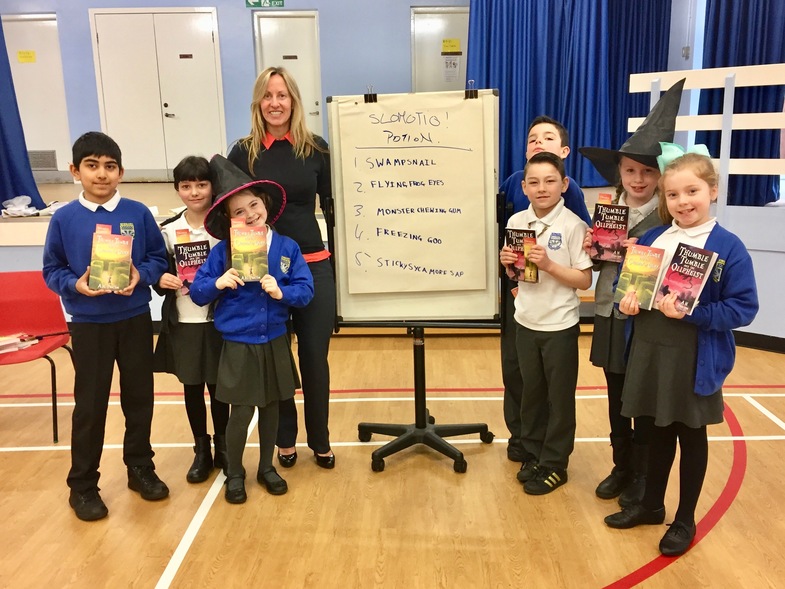 Since launching the first book in 2015, Angela has visited in excess of 150 schools from Tarbert in the West of Scotland, to Aberlady in the East and as far south as London!
Angela's one hour visits take the format of a reading from a chapter of one of her books. She then leads the children in one of her Imagination Challenges to really fire up their creative minds and devise a magical spell or potion! We find the audience who gain the most from the visits are usually Primary 4, 5 and 6, however, we often involve P3 and P7 classes also.
The cost of the one hour visit is £175. However, Angela is listed on the Scottish Book Trusts Live Literature Database, therefore £100 of the costs can be reclaimed if your school has received funding.
To arrange a visit to your school, please Contact Us and we'll get straight back to you to pop a date in the diary!
Scottish Book Trust Live Lit Database
As part of Angela's visits, she leads the children in either a Potion creation challenge or a mini game of Eagalach! Both are geared towards really firing up the children's imaginations and getting involved in the magic!
View Angela in action with Baljaffray Primary School - in action with Baljaffray Primary School